Stock Picks for September 2023
Watch our related YouTube video for this article.
Hello, today is September 19th 2023 and it's time for some new stock picks! As always I'll review the performance of my picks from this time last year, give a little bit of a market analysis and proceed with some new picks for the next 12 months and beyond.
This time last year I picked Smith & Wesson (Nasdaq:SWBI). The stock was down 3.8%. Walgreens Boots (NYSE:WBA), the stock was down 35.1%. They had an earnings disappointment in the last quarter or two and I also picked Intel (Nasdaq:INTC) which was up 24.8% for an average of -4.7%, in US Dollars including dividends. That compares with the performance of the MSCI World Index, as represented by the URTH ETF of 12.2%.
Performance Review
This was an unusual miss by my picks especially due to the performance of Walgreens, but it happens from time to time and that's that's the way it is. Having said that, my picks usually outperform the market, they have outperformed the market by 73% of the time and by 5.2% in total outperformance, for an average of 10.4% one year out and as compared with the market of about 5.2%.
Inflation and Interest Rates
Inflation has been the main point of concern over the last year, year and a half and in my opinion it's primarily a monetary phenomenon due to fiscal and especially monetary stimulus that the various Central Banks around the world have been engaging in since March of 2020.  As we all know they've raised rates now for the last year and a bit. Inflation has slowly started to come down and perhaps stabilized. Now we may be at an inflection point, where central banks could be pausing with the interest rate hikes. At some point in the next couple of quarters or three quarters, they may even start reducing rates, if economic activity slows down enough.
Equity Valuations and Stock Prices Going Forward
Equity valuations are still very high and real estate valuations are also high, so there may be a time to pause a little bit and wait for better valuations for the general stock market. We always have good ideas, we think anyway, for individual stocks and now a good place to be is likely large cap companies that pay decent dividends while we're waiting. Maybe the market is going to be flat for the next 12 months or lower. There are two strong possibilities as to what can happen after the central banks drop rates: one possibility is that inflation is going to come back and things like resources energy and gold will will go up. The second possibility is that before that happens the market will decline and high quality dividend paying stocks will outperform the general market. Eventually, when rates go down enough, technology stocks will come back and do really well. In the meantime, I think we are not there for the technology stocks yet. They had a good run this year so it's time for them to take a little bit of a pause. Therefore, our top picks are going to be more in the consumer staple area and utilities as well as an energy stock pick for the possibility of inflation coming back down the road.
Today's Stock Picks
Walgreens Boots Alliance (NYSE:WBA)
So top pick number one is going to be one of the ones from last year Walgreens Boots Alliance. The company is is still a good company, long-term its prospects are still very good, it's just that the price has gone down of the stock so it makes it a more attractive opportunity in my opinion so yes from time to time time that earnings will not be as good as expected but for long-term investors that gives us a better price to enter the stock. The dividend is over 8% at the moment and has already had a decline off its peak of some 40% or so. So we don't think there's much downside. There's more upside than downside on the stock so that would be stock pick number one.
Canadian Utilities (TSX:CU)
Pick number two will be a utility company, a Canadian one, Canadian Utilities mostly in Alberta. Again with these sort of companies which tend to act (well the stocks tend to act) as bond proxies, the decline in the price over the last 12 months was primarily due to interest rates going up because there's an inverse relationship, interest rates sensitive investments to the rate of interest. So as rates are now plateauing and down the road, maybe the next 12 months coming down, this would be a good place to be. So Canadian Utilities, stock pick number two symbol CU on the TSX.
Pioneer Natural Resources (NYSE:PXD)
The third stock pick is going to be a large cap oil and gas company Pioneer Natural Resources, (NYSE:PXD), decent dividend yield around 7% and the possibility of doing better if the central banks come and lower rates earlier, I don't think that's going to be the case, but that the idea with having diversified portfolios is that you never know exactly what's going to happen in the future, so you have many different ideas and hopefully more work than the ones to don't and you end up being better off in the long term.
Give Us a Call
As always, if you'd like a second opinion as to how these stocks fit in, you're hopefully already otherwise well-diversified portfolio, or if you have any other investment questions, please don't hesitate to give us a call. Thank you and have a great day.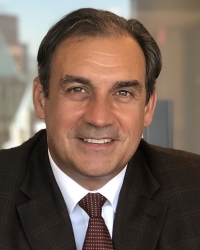 Latest posts by Constantine Lycos
(see all)