Stock Picks for January 2023
Hello. Today is January 12th, 2023, and it's time for some new stock picks. As always, I'm going to review the performance of my stock picks from this time last year to a little bit of a market analysis, give you some new stock picks and the rationale behind them.
See our video related to this article.
January 2022
This time last year, I picked Manulife, the Canadian insurance company (TSX:MFC). The stock was down 2.1% in US dollars, including dividends. I also picked ServisFirst Bancshares (NASDAQ:SFBS). That was down 22.2%. And I also picked Fabrinet (NYSE:FN), which was up 12.6%, for an average of -2.2% in US dollars, including dividends. This compares very favorably with the performance of the MSCI World Index, as represented by the (URTH) ETF, which was down 13.1%.
Today's Stock Market
This year, most economists are projecting a slowdown in economic activity, possibly a recession. So typically, in this kind of economic scenario. investors tend to hide in more conservative stocks like utilities and healthcare and tend to underweight economically sensitive stocks like semiconductors and resource stocks. However, because this recession has been so well predicted for the last nine months or so, the market has already priced in a fair bit of that economic slowdown. So, perhaps it's a good idea to own some of these economically sensitive stocks, as there's a decent chance they will outperform the more stable stocks, which have done better, and healthcare, in the last 12 months or so.
Skyworks Solutions, Inc. (NASDAQ:SWKS)
With that in mind my first stock pick is a semiconductor company Skyworks Solutions, (NASDAQ:SWKS). They produce semiconductors for wireless headsets and other devices. The stock is very nicely profitable with a return on equity of around 20%, a little bit more or a little bit less depending on the year. Typically companies with that kind of return equity trade at a price to book ratio of 4-5 times, and the stock only trades at around 2.9-3 times. So it looks like it's a good price to enter into what's a very high quality business. Of course, if the revenue declines and the stock doesn't do well this year, that would be a good stock to own for the longer term. That is, as long as they maintain their long term strength and profitability potential. That's stock pick number one.
Freeport-McMoRan, Inc. (NYSE:FCX)
Stock pick number two is Freeport-McMoRan (NYSE:FCX). They're the largest copper producer in the world. They also have some gold and other minerals and molybdenum.
Materials Stocks in a Weak Economy
So why buy a copper stock in a weak economic environment? The main reason would be the transition to clean energy and electrification of vehicles. For example, according to the International Energy Agency, offshore wind power plants require 13 times the mineral resources than similarly-sized gas power plants. Also, the average electric car requires approximately 53 kilograms of copper compared to only 22 kilograms of a gas car.
Therefore, even with an economic slowdown and lower demand for new vehicles, the process of moving to battery electric vehicles will require a lot more copper. That means it's a good time to own some copper producers, and Freeport is one of the best. And again, if this year doesn't work out, that will be a good long term hold regardless.
Tourmaline Oil Corp. (TSX:TOU)
And my third pick for January for the rest of the year is a Canadian oil and gas company, Tourmaline Oil Corp (TSX:TOU). This is more of an inflation hedge. Even though inflation appears to be slowing down as the Fed has done a good job with all the rate hikes in slowing down economic activity, the market is pricing in maybe one or two more rate hikes. After that, there may be a pause and possibly rate reductions this time in the next year, or maybe even earlier.
A good conventional oil and gas company is good to own, especially when we can buy them at a really reasonable valuation. As the world in the last 10-15 years has under invested in conventional oil and gas, supplies are restricted in a way because of the under investment. Demand is still growing. And that would be a good area to have some money in.
Risk Tolerance
Now, having given all these three picks, I have to recognize that these picks are more risky than my usual picks. So this time next year, the outcome may be a little bit more different than the market than usual. So we could end up doing a lot better or a lot worse. That's the nature of investing, and investors get rewarded for taking prudent risks longer term.
Have a Question?
If you would like a second opinion as to whether these stocks fit in your already well-diversified portfolio, or have any other questions, please give us a call. Thank you.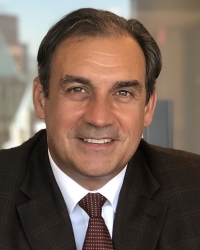 Latest posts by Constantine Lycos
(see all)